Cogosense Blog
Cogosense's Driver Behaviour Blog
FleetSafer Ensures Responsible Use of Tablet Computers in Fleet of 10,000 Vehicles
Tablets are the fastest ramping computer device in history. A large portion of the growth comes from enterprise mobile workforce automation projects. The tablet makes an excellent substitute for the laptop due to four primary factors:
More convenient size for portability
Easier in-vehicle docking
Longer battery life
Lower cost
Additionally the tablet can be used for navigation (saving approximately $1000 per vehicle by avoiding the built-in option).
However, along with these benefits comes a serious challenge. A tablet in a cradle in a vehicle becomes a source of serious distraction for a driver and presents a large potential liability for the corporation if the driver should have an accident. This problem is particularly acute given the potential of a large screen tablet to create the most significant forms of driver distraction:
Visual - looking at something other than the road
Manual - manipulating something other than the wheel
Cognitive - thinking about something other than driving
Fortunately, there is a solution - FleetSafer automatically activates and deactivates "safe mode" when employees start and stop driving. During "safe mode", only "whitelisted" applications (such as navigation) are permitted. Such "whitelisted" applications can be easily customized to suit a company's policy.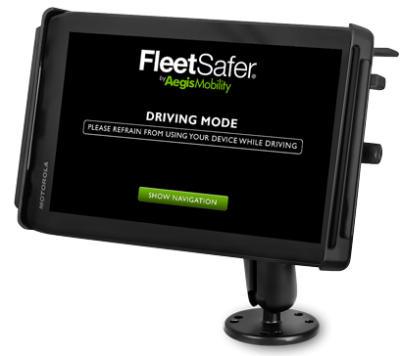 Aegis was recently selected by a leading Fortune 50 enterprise to deploy FleetSafer to 10,000 service technicians. Aegis was chosen as the best product due to:
SafeApp functionality in FleetSafer (ability to "whitelist" applications such as navigation)
Detection accuracy for determining "start" and "stop" for driving
Low battery drain (using patented and patent-pending algorithms for detection)
Tamper resistance
Ease of configuration, deployment and management
Enterprise-class analytics and reporting
To learn more about how FleetSafer can help your organization deploy workforce automation solutions without compromising safety, read more customer success stories and schedule a demo today!